Save Borders
Within Surety® Pro, the Borders layer contains the base boundary for each field or area of interest and can include the farm and field id. Management forms can be derived directly from a border or the border can be easily modified to accommodate forms that only include part of the boundary. Even though a saved border is not required to create a form it is highly recommended.
Surety® Pro allows the saving of client borders after selecting or drawing a boundary. Borders are saved to a Client and Crop Year and can be organized by Farms and assigned a Field ID. You can then access and select those saved borders through the Work Management and Organization area.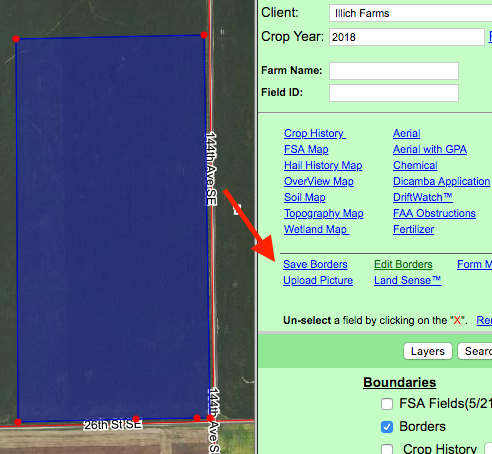 Selecting or Drawing a Border to Save
You can select, or smart select, from an existing Boundaries layer such as the FSA Fields and then save to your Borders layer. After drawing a boundary or a pivot, you can save the drawing to the Borders layer. The Save Borders tool is active only if a Client has been selected.
Assigning Farms and Field IDs
Work management and organization in Surety® Pro allows the assigning of a Farm and/or Field ID to the saved border.
You can create a Farm Name or use an existing Farm Name when saving your border. A Farm Name does not need to be assigned.
Assign a Field ID to a saved border by typing in a new name in the Field ID entry box when saving your border. This Field ID will also be used to fill in Field ID information in a Form.