Ready Made Forms and Maps
At the heart of Surety® and Surety® Pro are the ready-made forms and maps. These forms and maps cover a wide variety of needs, from a simple map of an area of interest to in-depth data record keeping, formulas and lists. Go here for a break-down of the Maps and Forms available to you in Surety® and Surety® Pro.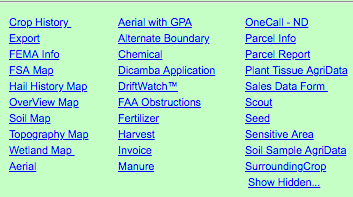 Maps and Reports
Their is a variety of maps and reports available in Surety® and Surety® Pro: FSA Map, Crop History, FEMA Report, Overview Map, Soil Map, Topography Map, Hail History Report and Wetlands Map. Save these maps and reports as PDF or JPEG formats and print or email right from the software interface.
Map-Based Forms
These forms, available in Surety® and Surety® Pro, allow the user to enter data onto the form for record keeping and reporting purposes. They contain a map of the area of interest and pre-populate certain types of information such as location. Surety® users may save the form to PDF format or print the form, Surety® Pro users can also save the form to their account for later data entry, review or to archive. Here is the current list of Forms: Aerial, Aerial with GPA, Chemical, Fertilizer, Harvest, Invoice, Manure, Parcel Report, Sales Data Form, Scout, Seed, Soil Sample and Plant Tissue Analysis.
Data Layers
These forms allow the viewing of information from a selected layer or allow the use to enter data for specific data layer. Data Layer entry forms include: Surrounding Crop (SP only), Sensitive Area, FAA Obstructions; Info forms include FEMA Info and Parcel Info.
Custom Forms
If the above Maps, Reports or Forms do not meet your needs, you can have custom form created for your account. Click here for more information.