Ready Made Forms and Maps
At the heart of Surety® and Surety® Pro are the ready-made forms and maps. These forms and maps cover a wide variety of needs, from a simple map of an area of interest to in-depth data record keeping, formulas and lists. Go here for a break-down of the Maps and Forms available to you in Surety® and Surety® Pro.
Maps and Reports
There are a large variety of maps and reports available in Surety® and Surety® Pro: FSA Map, Crop History, FEMA Report, Overview Map, Soil Map, Topography Maps (Contour, Hillshade, USGS), Hail History Report, Legal Description, Weather Outlook, and Wetlands Map. Generate these maps as a conveniently sized 8 1/2" x 11" page that can be saved easily in a PDF or JPEG format. Save, print, or email right from the software interface.
Map-Based Data Entry Forms
These forms, available in Surety® and Surety® Pro, allow the user to enter data onto the form for record keeping and reporting purposes. They contain a map of the area of interest and pre-populate certain types of information such as location. Surety® users may save the form to PDF format or print the form, Surety® Pro users can also save the form to their account for later data entry, review or to archive. Here is the current list of Forms: Aerial, Aerial with GPA, Chemical, Fertilizer, Harvest, Invoice, Manure, Parcel Report, Sales Data Form, Scout, Seed, Soil Sample and Plant Tissue Analysis.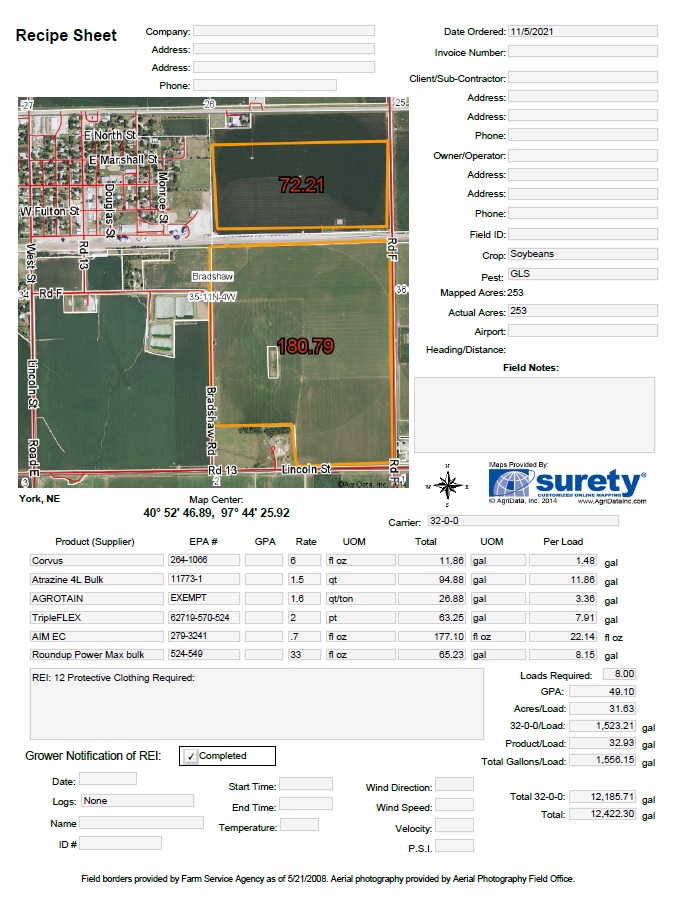 Custom Map and Form Templates
A feature that gives incredible value to the Surety and Surety Pro software is the ability to incorporate a customized form or map template specific to your mapping account. This personalization opens the door to endless uses for the software. Click here for more information on how to request a custom form to be built for your company account.